Denim Tutorials Pt. 3: Funky Fringe
Written by Aly Reinert, Edited by Aurora Hinz
Fringe! Denim fringed hems have become increasingly popular and are fairly easy to achieve on your own without spending those extra pennies. The key to good hem fringe is staying on grain and following the threads, otherwise, the fringe will break right off!
What you will need
Your Jeans
Ruler
Chalk
Fabric Scissors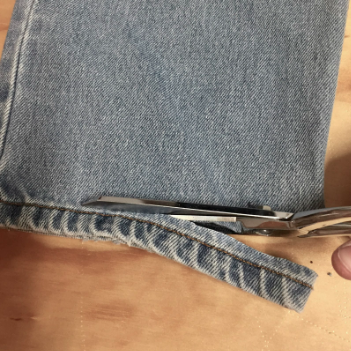 Start by cutting off the bottom of your jeans
Decide how long you want the fringe. Mark with chalk a line across the jean where you want the fringe to start. If you want the fringe to be more freehand and look more organic you do not need to make every strip start at the same horizontal line.
Cut your first line on the front of the jean next to the inseam and pull out a few indigo threads so you can see exactly where the grain is. Continue to cut 1/2" wide strips all the way across, making sure your cuts are parallel with the indigo threads.
One strip at a time, pull out an even amount of threads from each side. Keep the white threads in the middle of each strip, the twill weave causes the strips to twist. If you want your fringe to look a bit more uniform and have no white threads at all, you can completely pull the indigo threads from the sides of each strip until the white ones fall out.
Repeat on the back of that leg and then all around on the other leg.
Your options for results are either to keep every strip with white threads or to remove all white threads completely.
PS - If you try any of these tutorials DM us pictures @esanewyork on Instagram!