Eco-Friendly Basics: Taylor's Go-To's
Written by Taylor Koontz, Edited by Aurora Hinz
NEW YORK, NEW YORK -
I began shopping at thrift stores in high school with my friends on the weekends. At first, my motive for shopping at my local Salvation Army, Goodwill, or CHKD was not because it was more sustainable, but because I wanted a unique wardrobe. As I started learning more and more about the harmful effects of fast fashion, I decided to cut it out of my life completely and only purchased clothing from thrift and vintage stores.
At first, this seemed plausible. I loved how curated and meaningful my wardrobe had become. There was only one problem: I was still wearing the fast-fashion basics I had bought previously, and as they fell apart or were damaged, I struggled to find thrifted basics to replace them with.
I went to the internet to start my search for sustainable basic pieces and was automatically overwhelmed. There were so many ethical brands, many of which I had never heard of, and I wasn't sure where to start. A lot of the ethical brands I was finding had what I needed, but the price point was too high for my college student bank account to afford. Of course, fast fashion prices will be different from truly ethical prices, but to me, spending a little bit more on clothing that was made sustainably and will last was worth it. Eventually, I found some great brands that sell great basics at an affordable (but still fair-wage) price.
Of course, consumerism isn't really an alternative. The best way to live a sustainable lifestyle is to not buy new clothes of any kind. However, purchasing new clothes is sometimes the only option, especially for people first transitioning into a more sustainable, fast fashion free lifestyle. If you're going to buy new, it's best that you buy pieces from sustainable, transparent companies.
If you're looking for tee's and long sleeves: Everlane or Loomstate
Everlane has been saturating everyone's Instagram feed lately, but it isn't all hype. Everlane's aesthetic is very minimalistic, and they have basic pieces that hold up well and won't break the bank. They have long and short sleeve tees that come in up to 16 different colors, as well as rib tanks.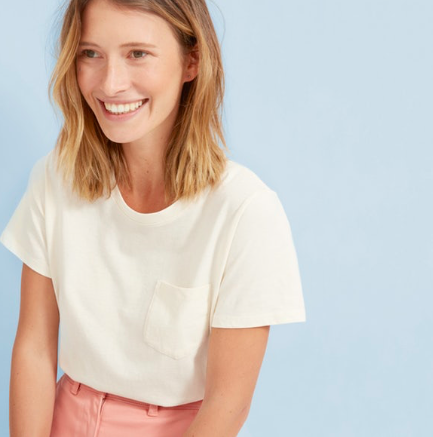 It's important to reiterate once again that none of these companies are a zero in terms of carbon footprint. They're all better than shopping fast fashion, but it's important to do your research on any company, whether they claim to be sustainable or not. Look for the company's mission, the fabrics used, and how transparent they are with their factories and wages. Instead of asking yourself why some sustainable companies are so expensive, make sure you ask yourself, why are some companies so cheap?